15 - WINTER Arctic Circle Aurora Drive Adventure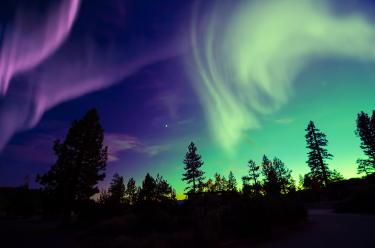 A Guided Round Trip Winter Journey By Land Across The Arctic Circle. Travel north by day to experience Alaska's Arctic and south by night to scan the northern skies for the amazing aurora.

Tour Summary:
Stop in Joy Alaska at the Arctic Circle Trading Post which will become your stop for scanning the darkened skies for the Aurora. The location is 60 miles outside of Fairbanks away from the city lights. Stay out around Solar Midnight, the time the scientists have determined are the most active in Alaska's Arctic.

Departs Fairbanks: 10:00 am; returns between 3:30 and 4:30 am.

Tour Schedule: September 19, 2017 - April 21, 2018. Sunday, Tuesday, Friday primary departures - other days may be available

2017 -2018 Rate: $269 (PEAK $289) / person

PEAK November 20 – 26, 2017 / December 21 – 31, 2017 / February 16 - March 31, 2018

---
If you're looking for a longer adventure with air travel and overnight stays, check out our list of tours! CLICK HERE